Puss 'N Boots is one of our favorite characters around here. Any animal with a sword and a cool hat would probably fit that bill, though! We had a chance to review a new-to-us movie about him, The True Story of Puss 'N Boots on DVD.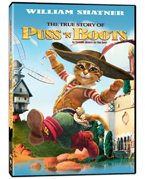 About The True Story of Puss 'N Boots
A young miller's son inherits a strange talking cat with magical boots. With his cunning wit, Puss helps him win the heart of the Princess while battling devious suitors that are after the throne.
Starring Emmy and Golden Globe winner William Shatner as the voice of Puss, this movie is about accomplishing your dreams no matter who you are.
A free adaptation of Charles Perrault's famous Puss 'n Boots, "The True Story of Puss 'n Boots" is a story for young and old for the first time on cinema screens.
My Review
My children liked this movie well enough. MrCutie, my youngest son, got a real kick out of some of the things that Puss does in the story. BudBud said he felt like the animation was meant for smaller kids (i.e., that it was a bit slow). He also wondered at the end of the movie if he'd missed something, because the back cover and movie description state that Puss 'battles' devious suitors – and there's never really any battling going on (not to the mind of a 10-yr-old boy). In the movie itself there is also really only 1 other suitor, though you hear about others from before, so BudBud was a bit confused I think. One thing Sweetheart and I noticed right away was that the voices didn't always match with the mouths of the characters. We investigated and found out that this film was originally done in French, with the English voices added later. Again, for younger children there would likely be no notice taken, but for my older and detail-oriented big kiddos, it was a bit distracting sometimes.
The story-line is quite different from any other story we've ever heard of Puss N' Boots. His boots are magical only in a limited way – they make him run faster. The tricks and schemes he comes up with are carried out with little or no help from his magic boots. So, that's definitely a free-adaptation of the original stories we've read.
I have to admit that I'm not a huge fan of this movie.  There were a few things that really stood out for me.
The voice-animation synchronization issue was easy enough to get past, but one voice in particular was almost irritating to me. Unfortunately, it was the voice of William Shatner as Puss. It was too raspy and often whiny to my ears.  It seemed forced and quite unnatural. He wasn't particularly funny either, though definitely sly and clever. His paws were also oddly distracting, perhaps because they look like he's wearing mittens or something and not like real cat's paws.
Animated princesses often leave a bit to be desired in terms of their approximation of real life women, and the Princess in this story is unfortunately no different. I think she's kind of a "Jennifer Lopez" shape, very busty, with a TEENY waist and HUGE hips.  My 12-yr-old daughter, Sweetheart, said, "Wow, she doesn't look like any woman I've ever seen in real life."  All of the women in the film, in general, aren't characterized very true-to-life. The Queen is a slurring drunk it seems, and the innkeeper (or pub owner?) clears dishes with a cleavage-bearing lean across the tables.  The Princess herself, misproportioning aside, must sneak away from the castle in disguise to visit the pub in order to pursue her love of dancing and singing.
In general, I would have preferred for Puss to deal with things magically, rather than as he did in this movie, through deceit and trickery. There are lies at every turn, with subtle details added or excluded for the sole purpose of deception.  Even when given the chance to 'come clean' after the Princess discovers his secrets, the miller's son continues the charade, and 'luckily enough' gets away with it. What seems to make it all 'right' is that the Princess loves him anyway, and it's all at the expense of 'the bad guys' (in this case, the Chamberlain and the Ogre).  The ends justify the means, regardless of lies told along the way. I disagree with this philosophy, and really didn't like this about the movie.
There was also a very bizarre torture going on with the Princess's previous suitors – the Chamberlain would have them turned into toads, and then they would be made to eat some kind of gross food slop continually launched at them via a never-ending conveyor belt.  The scenes with these toads made me sick to my stomach, and were just odd.  I never understood the purpose of it – wouldn't turning them into toads be enough, especially for a kids' movie?  All my kiddos were like, "Ohmigosh, poor toad! How do you make it stop? It's awful!"
I did like most of the music in the score/soundtrack of the movie. On her wedding day, the Princess sings, "I Feel Pretty" from West Side Story, and she dances and sings to "Habañera" from the opera Carmen. Those were some pretty fun additions, at least for me, as a lover of classic music such as this.
This is truly a free-adaptation of the Puss N' Boots story, but I'm not sure it even keeps with the spirit of the TRUE story of Puss N' Boots. As with any creative license taken with a classic tale, it's open for interpretation. Perhaps the film is more suited to a European audience, but The True Story of Puss N' Boots is not a big hit in our Canadian house.
For more information on The True Story of Puss N' Boots, visit Phase4Films.