Christmas music has been playing around here for a while, but in my house we only play it AFTER American Thanksgiving. Christmas is my favorite time of year, but I like to not overdo things, so I 'save' the music until it really feels like Christmas-time to me. This year we have a new Christmas album to add to our mix – One Silent Night by FFH.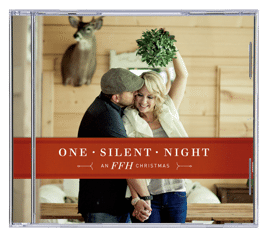 About One Silent Night
Best-selling pop group FFH ushers in the holiday season with its first Christmas album. One Silent Night is a mix of original songs and Christmas classics.
Produced by FFH founding member Jeromy Deibler, One Silent Night has been four years in the making. Giving in to the persistent appeals of loyal fans, FFH has crafted a project worthy of your holiday music collection.
Listeners will recognize favorites like "Winter Wonderland," "I'll Be Home for Christmas," "Baby It's Cold Outside," and "Jingle Bell Rock," among others, while being introduced to new tracks including "The Birthday of a King," "Glorious Impossible," and "One Silent Night."
Deibler comments, "We just feel blessed to be able to make this record and wanted to do the kind of Christmas music we like to listen to, something that's not trendy but more of a classic style. For us Christmas is about remembering… slowing down to see what is important. And being reminded of the glorious impossible that was the birth of Christ. We hope this album reflects that desire and inspires others to do the same."
About FFH
Pop vocal group FFH has released thirteen projects, sold more than two million albums, and garnered 24 radio hits, including seven No. 1 singles and ten Top 5 radio singles. In addition to multiple Dove Award nominations, FFH has been recognized at the Inspirational Life Awards as well as the Billboard Music Video Awards. The group has performed more than 1000 dates since 2000 and continues to be a favorite on the tour circuit. FFH is also known for its work with the "Make-A-Wish Foundation," Kurt Warner's "First Things First Foundation," and for its contributions to national ad campaigns for Coca Cola and IBM.
My Review
I am a pretty harsh critic when it comes to Christmas music. You may have read my posts on Twitter or Facebook saying something like, "How many different ways are there to ruin O Holy Night or Rockin' Around the Christmas Tree? Just when I think I've heard them all, someone makes it worse!" I can honestly say that FFH doesn't ruin any of the songs they have put together for this album. 🙂
I like how Jeromy's and Jennifer's voices still sound so fresh and young. They harmonize well, and the feel of their music is overall very comfortable, with nice instrumentals behind solid vocals.
I wasn't aware of how mainstream FFH had become, and have only ever known them as a Christian group. So I really was surprised when I heard their first song on One Silent Night – Baby It's Cold Outside. I have enjoyed the clever words and lyrical 'banter' that occurs in that song, and have since the first time I heard it a while back. FFH sings it well, with fantastic harmonies and personality. What surprised me is that the message of the song, overall, isn't very wholesome, and I wasn't expecting to hear it on what I understood to be a Christian Christmas album. They guy in the song is trying to convince his girl to stay, when she's trying to say she really needs to go home. It almost seems like he's trying to take advantage of situation (and of her?).  Here are most of the lyrics:
Woman: I really can't stay     Man: Baby it's cold outside
W: I've got to go away   M: Baby it's cold outside…

W: My mother will start to worry   M: Beautiful, what's your hurry
W: My father will be pacing the floor   M: Listen to the fireplace roar
W: So really I'd better scurry   M: Beautiful, please don't hurry
W: Well Maybe just a half a drink more   M: Put some records on while I pour

W:  The neighbours might think   M: Baby, it's bad out there
W:  Say, what's in this drink   M: No cabs to be had out there
W:  I wish I knew how   M: Your eyes are like starlight now
W: To break this spell   M: I'll take your hat, your hair looks swell

W: I ought to say no, no, no, sir   M: Mind if I move a little closer
W: At least I'm gonna say that I tried   M: What's the sense in hurting my pride
W: I really can't stay    M: Baby don't hold out
Both: Ahh, but it's cold outside

W: I simply must go   M: Baby, it's cold outside
W: The answer is no   M: Ooh baby, it's cold outside…

W: My sister will be suspicious   M: Gosh, your lips look so delicious
W: My brother will be there at the door   M: Waves upon a tropical shore
W: My crazy aunt's mind is vicious   M: Oh your lips are delicious
W: Well maybe just a little bit more    M: Never such a blizzard before

W: I've got to get home   M: But, baby, you'll freeze out there …
W: You've really been grand   M: I'm thrilled when you touch my hand
W: But don't you see   M: How can you do this thing to me?

W: There's bound to be talk tomorrow   M: Making my life long sorrow
W: At least there will be plenty implied   M: If you caught pneumonia and died
W: I really can't stay   W: Get over that old out
Both: Ahh, but it's cold outside
Slipping his girl some kind of 'drink', not accepting her "no" for an answer, laying on some guilt – these really are not gentlemanly things to be doing. Yes, I am maybe being a bit harsh (I mentioned that to start with), but it was only because I thought it was a Christian Christmas CD. This isn't the kind of message I expected to hear. It's funny, because I've heard that song lots before, but listening to it in this context it really caught my attention this way. Just sayin'….
My favorite songs are the FFH songs, rather than the FFH versions of other Christmas songs. One Silent Night, The Birthday Of The King, Glorious Impossible, Heaven And Nature Sing are new (to me, anyway) and I quite enjoyed them. SOLID Christmas messages, with beautiful lyrics, and just a comfortable overall feel. These songs are very Christmas-y, and will be added to our Christmas playlist for sure.
I am not a huge fan of the FFH version of O Come O Come Emmanuel – it seemed slow and a bit tired, or maybe uninspired. I think the aim was maybe to be more laid back with it, but it didn't work for me, personally.
If you like FFH, I do think you'll like One Silent Night. I love being able to purchase individual songs on iTunes, so if you aren't a fan of some of them, like me, you can just get the ones you like. Check out One Silent Night on iTunes.
More info is available here, too:
Website: http://ffh.net/
Facebook: http://www.facebook.com/FFHmusic
Twitter: http://twitter.com/#!/FFHMusic
Disclosure of Material Connection: I received one or more of the products or services mentioned above for free in the hope that I would mention it on my blog. Regardless, I only recommend products or services I use personally and believe will be good for my readers. I am disclosing this in accordance with the Federal Trade Commission's 16 CFR, Part 255: "Guides Concerning the Use of Endorsements and Testimonials in Advertising".