My husband and I are familiar with the 5 Love Languages series put out by Gary Chapman. So we were excited to hear about "The 5 Love Languages of Children". But to top it off, Northfield Publishing and Gary Chapman have come out with a kid's book to help them discover their own love language – "A Perfect Pet for Peyton".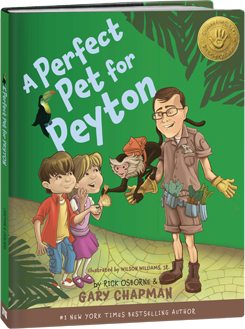 About A Perfect Pet for Peyton
This wonderfully imaginative children's hardcover book by bestselling authors Gary Chapman and Rick Osborne, featuring four-color illustrations (with hidden details!) by Wilson Williams, Jr., will help children learn the importance of love. Based on Gary's highly successful The 5 Love Languages®, A Perfect Pet for Peyton tells an entertaining and playful story of five children who each, with the help of Mr. Chapman and the unique pets at his special emporium, discover their own personal love language. Children and parents alike will experience firsthand the power of the love languages as they cuddle up and spend precious time together reading this book over and over again.
Our Review
A Perfect Pet for Peyton came to our house at just the right time. We've just brought our youngest son home to do home schooling for the rest of his Grade 4 year. This book is another step in our journey to helping him (and us) to understand how he's wired, and to help him to be able to thrive in as many ways as possible.
The book is hard cover, brightly illustrated, and wonderfully written. My oldest son, our artist, noticed details in the children's faces in the book, like shiny eyes that make the characters look alive, and hand placement showing real movement, etc.
I like that there are little things to do throughout the book – find insects on the pictures, count how many of these things you see, etc. It wasn't important for my big kiddos, but while reading the whole book with MrCutie out loud, he did much better when we could stop and look around at things. It helped to keep him IN the book and not get overwhelmed.
I had a general idea about what my kiddos Love Languages were, but reading the book with them and talking through the languages has helped me to understand where they see themselves. They all liked the book a lot. Here's what they had to say about it:
MrCutie – I thought that this book was very inspirational. Don't ask me how though. HAHA!  It was a bit funny. I thought the monkey and the parrot were cute.   And the dolphin was really neat.  The book was really full of surprises. I liked it when Mr. Chapman said, "Oh, our Moose Mortimer probably got into the pantry again."  I thought it was cool to learn about the 5 love languages. I think my #1 language is Gifts and #2 is Words of Affirmation.  I think my brother's language is Quality Time (with his Legos).  I think my sister's language is Physical Touch or Words of Affirmation. I would recommend this book to other kids.
BudBud – It's a good book for if you're trying to figure out which love language you are. It's cool about what different pets can do, too, and if they are trained properly. Alex [the dog] is helpful and can do tricks. Monkeys can hold lots of stuff, so it would be able to give lots of gifts. Parrots are very smart and some can talk so it would be good for words of affirmation. Cats just like to be snuggled, so that would be good for quality time. I really liked it how there was a separate animal for everyone and Peyton didn't think he was going to get one, so he was scared and sad. And the guy came back out and he was like You're Right [about Peyton getting his own special pet]. I liked it where the dog is helping him clean up because he looks so cute an innocent, and it's a nice thing to do. I think my love language is #1 Words of Affirmation and #2 Gifts. I think my sister's language is Quality Time. I think my brother's language is Gifts. I would recommend this book to my friends, and anybody 12 and under.
Sweetheart – I liked this book. It's very cute, but I feel bad for Peyton when he doesn't think he can get a perfect pet pal. I liked when Peyton finally got his pet.  I wish we could get perfect pet pals. That would be so cool.  I think my top love language is either Words of Affirmation or Quality Time.  I think BudBud's language is Physical Touch.  MrCutie already told me that his language is "Gifts". I would recommend this book to my friends. I think the book would be great for people old enough to understand (like 7 year olds and over).
I would recommend this book for parents who are wanting to learn more about their kiddos, and to help encourage their kiddos to understand how they are made better. A Perfect Pet for Peyton is a fun, easy-to-read story that teaches a lot about how people like to have love and care expressed to them. It's a valuable resource in any parents' toolkit!
Disclosure of Material Connection: I received one or more of the products or services mentioned above for free in the hope that I would mention it on my blog. Regardless, I only recommend products or services I use personally and believe will be good for my readers. I am disclosing this in accordance with the Federal Trade Commission's 16 CFR, Part 255: "Guides Concerning the Use of Endorsements and Testimonials in Advertising."