Acne – it was something I hadn't really thought about bumping into while raising my own kiddos. Of course, both my Sweetie and I have experienced our share of 'blemishes' in our lives, and not just during our teen years. I know my Sweetie used a special prescription soap or cream through the end of his high school years, into University and even after we got married. And there are days when I still feel like a pubescent teenager, connecting the newly erupted dots on my face.  But, strangely enough, I'd never thought about having to help my kiddos deal with the same issues.
Interestingly, it's my youngest son, MrCutie, who has had the worst issues with his face so far, and he's only just turned 10! Since he was about 8, his skin had started to break out, especially across his forehead and in the creases around his nose. This year it's gotten increasingly worse. Some of that is likely due to his hair style (heavy bangs on his forehead) and some of it is undoubtedly due to the questionable personal hygiene practices of any 10-yr-old boy!
The breakouts were one thing, and they initially only seemed to be slightly itchy sometimes, with no other effect. However, MrCutie's classmates started commenting on his forehead "zits" more and more, and that really began to bother him, as you can understand. As a mom, that broke my heart. We have a standard bedtime routine, a shower routine, etc., and still his face was getting worse.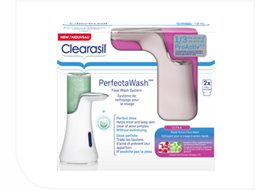 Being able to try out the Clearasil Ultra PerfectaWash System was a very exciting opportunity for me. Anything I could do to help MrCutie would be GREAT!
Clearasil's system makes it possible to keep my very busy 10-yr-old boy interested in using the cleanser, and seeing results. Some of the benefits of the Ultra PerfectaWash System that we've seen include:
It automatically dispenses the perfect dose of effective cleanser every time.
Seriously, this was what caught MrCutie's attention FIRST. The battery-operated dispenser looks cool sitting on the counter, and with the motion sensor on the front, it dispenses just the right amount onto his wash cloth. Anything electronic is COOL to him right now, so having his own electronic bathroom gadget is just fun!
The leading edge formula gives visibly clearer skin by treating the acne.
I didn't think to take before and after photos, but we DO notice a huge difference when MrCutie is using the cleanser daily. His forehead went from being absolutely covered with tiny bumps and a few larger inflamed blemishes to having very few tiny bumps, and no inflamed blemishes at all. He is 10, so he still fluctuates with consistently using the cleanser, but when he's using it, it makes a big difference in a matter of just a few days.
The Soothing Plant Extracts refill contains extracts sourced from daisy, rock rose and lavender – which are known to calm skin.
Both of the refills, Super Fruit Splash and Soothing Plant Extracts, have a fresh, clean, and light scent. Since my son is using the cleansers, I was hoping they wouldn't be TOO fruity or girly smelling, and they aren't. Soothing the inflamed skin around the larger blemishes seems like a really important step to healing the skin, and the Soothing Plant Extracts cleanser definitely does that.  After a couple of washes, we saw significantly less redness on MrCutie's face. The Super Fruit Splash cleanser is a very refreshing wash, and MrCutie likes that one, too!
Each starter kit includes the revolutionary dispenser and two cleanser refills (three months of cleanser for one small price – an amazing value).
Again, the electronic dispenser was a huge hit with MrCutie. I like that you can get individual refills for the dispenser, too, so that you can keep using the starter equipment that you get and don't have to keep getting a new dispenser every time.
I don't have to worry about juggling multiple skincare products – this one daily cleanser is all that's needed.
As with most kiddos, MrCutie prefers simple procedures over complicated lists. With the Clearasil Ultra PerfectaWash System, it's a ONE step process. He just has to wash his face. There's no wash, plus toner, plus cream, plus lotion or anything like that.  If there are too many steps, tweens and teens won't keep up with them all. That's just the way it is. Simple and easy works SO much better for them, at least in our experience!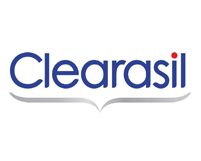 We've enjoyed the Clearasil Ultra PerfectaWash System, and have found it to be a system that works well for our tweens. Providing them with a simple, reasonably priced, one-step process is something I can feel good about doing to help my kiddos with their self-esteem and confidence.
If this is something you're interested in for your own household, Mom Central Canada has a limited-availability testing opportunity where moms will get the chance to test the Clearasil Ultra PerfectaWash system too! Follow the link to learn more about this opportunity http://momcentralcanada.com/im-a-mom/?view=view_apply&opp=Clearasil_Ultra_PerfectaWash&oppid=5.
Disclosure – I am participating in the Clearasil PerfectaWash program by Mom Central Canada on behalf of Reckitt Benckiser. I received compensation as a thank you for my participation. The opinions on this blog are my own.
* Do not use if allergic to salicylic acid or any other ingredient in the product.
Medicinal Ingredients: Salicylic Acid, 2%
Non-Medicinal Ingredients: Water, Glycerin, Sodium laureth sulfate, Cocamidopropyl betaine, Coco-glucoside, Sodium chloride, Laureth -4, Fragrance, Tocopheryl acetate, Propylene glycol, Polyquaternium-43, Disodium EDTA, Trideceth -9 , Rubus idaeus (raspberry) juice, Vaccinium macrocarpon (cranberry) fruit extract, Phenoxyethanol, Bisabolol, Citric acid, Methylparaben, Butylparaben, Ethylparaben, Isobutylparaben, Propylparaben, D&C red no. 33, FD&C yellow no. 6