Sometimes we get the chance to make some really special memories with our kiddos. This summer was one of those times for us.
We had the fantastic opportunity to tour the facilities at Circle Square Ranch Halkirk for a few days.  I don't think we could have guessed how awesome it was going to be!
My daughter, Naomi, has a real heart for animals. One of her best friends has been taking horseback riding lessons for a while, and the girls love talking about horses and all that goes with them.
So, when we arrived at Circle Square Ranch, Naomi was very excited!  I asked her about our time in Halkirk.
Me: What did you think of the surprise of getting to go to Circle Square Ranch?
Naomi: It was a nice surprise. I have always wanted to ride a horse. I was really surprised.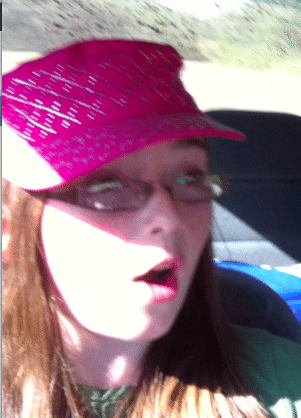 (yup, she looks pretty surprised!)
M: What activities did you get to do?
N: We got to swim, help at the high ropes course, do archery, shoot pellet guns, and paddle around in a canoe and a kayak.
M: What was the most unexpected thing that happened?
N: Us actually getting to go. I was just really excited to be there. I had no idea we were going, and everything was unexpected!
M: What was the most fun?
N: Horseback riding. They taught us how to ride the horse. I like that we didn't have to have any previous horse experience. The instructions were really easy to understand. I felt confident when I got on the horse once I figured out how to direct it. My horse's name was Maya. She was hazel (chestnut) brown. She was a good horse. She followed right along with the other horses.  I thought she was fun.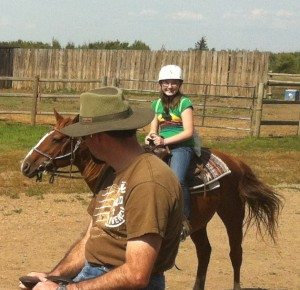 Can you see the BIG grin on Naomi's face?
(She's in the background with a green t-shirt on.)
M: Would you like to spend a week at Circle Square Ranch?
N: Yes, for sure.  I heard they are having a week long horse camp next year, where it's all about horsemanship and taking care of the horses. I would love that!
M: How would you describe our time at Circle Square Ranch in a few words?
N: It was kind of a dream come true! I got to do something I've always wanted to do – ride a horse. It was a great time!
I think Naomi definitely had a fantastic experience at camp.  I love that she really did enjoy herself, and that I got to see her try something new. It was an awesome adventure, and we'll see what we can do to get her back out to camp in the future!
Circle Square Ranches are Christian camps with a focus on kids and horses. It's more than just summer camp at Circle Square – it's an adventure!
For more info about Circle Square Ranch, check out my other Circle Square Ranch posts.
Circle Square Ranch invited us out to tour the camp in hopes that we might share a review here on my blog about our time there. No compensation was received for publication in this space. As always, my views are my own, based on my own experience.