I never seem to have enough hooks for things, especially around back to school time.  Somethings just need to get hung up, like bags, backpacks, scarves, certain kinds of art projects, etc. So shelves don't really work – hooks are a great alternative.  EXCEPT, hooks leave holes in your walls, and I really dislike that.  I was excited to find a kind of hook that doesn't damage your wall, and can be removed later, too!  Command™ Faux Metal Hooks from 3M Canada.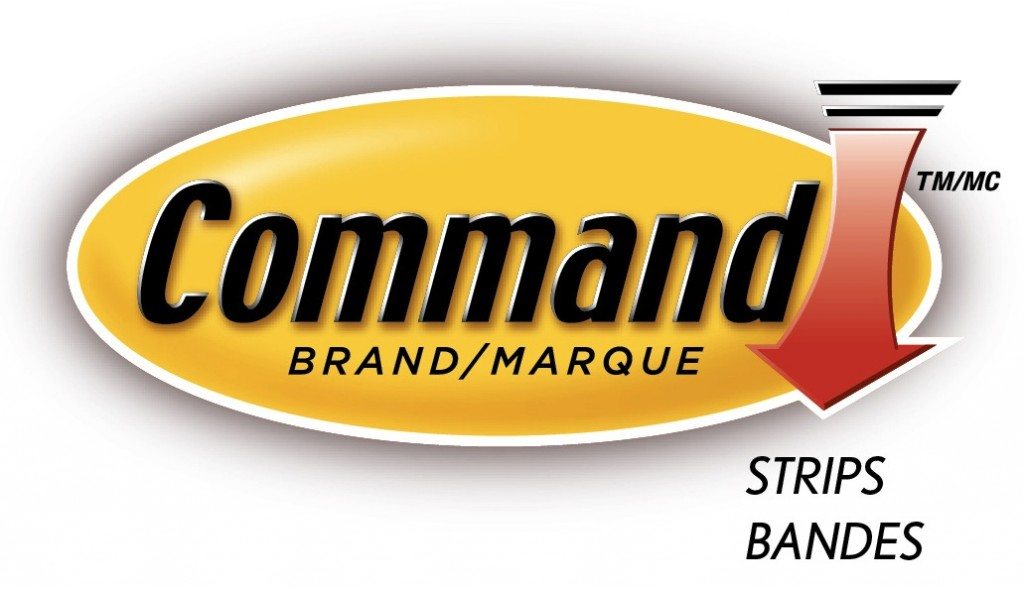 About Command™ Hooks
Command™ Brand offers an easy and stylish solution for Back to School tasks like organizing that front hallway, making room for backpacks, or clearing up space on the desk. Command™ Decorative Hooks render your toolbox obsolete and eliminate those pesky holes in the wall from nails and drilling. Decorating and organizing your home in the way you want, when you want, can really be a breeze! Decide you don't like the placement of that hook after all? No big deal. This damage-free hanging alternative holds strongly, but can be removed cleanly without damaging the paint on your walls. Reusing them is as easy as applying a Command™ Refill Strip! Command™ Hooks come in a variety of styles — from sophisticated, to fun and playful — giving you options for every room and every person in your home.
My Review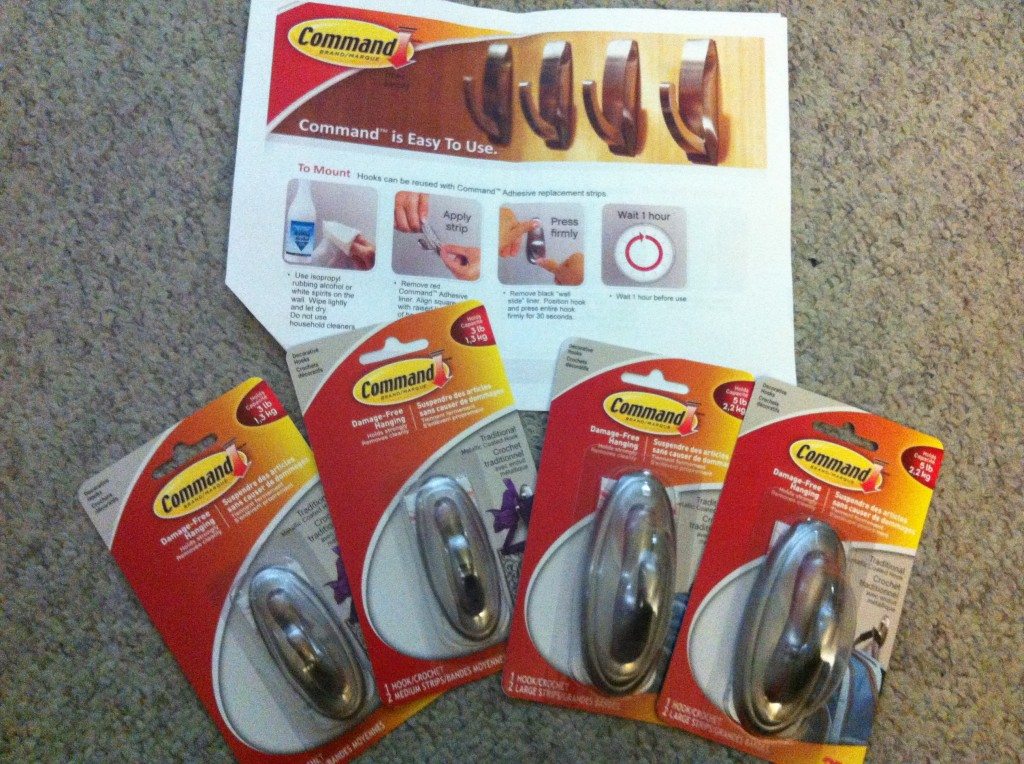 I'm a busy mom, getting ready for back to school, so I'm looking for fast and easy things around every corner. If a project needs to be done right now, it better be easy! Command™ Faux Metal Hooks from 3M Canada fit this criteria exactly!
The time from opening my 4 hooks, until they were all mounted on the wall was about 10 minutes. 10 minutes for 4 hooks! And not only that, they were easy to install. The directions on the back of the carton were very clear and easy to follow.
Back to school here means that everyone has to actually get dressed in REAL clothes instead of summer bum around clothes, so that means more laundry!
I decided to use these hooks to help my daughter and I keep track of our hand washables. She's getting older, and wearing some more delicate clothes, things that need to be hand washed or washed on a gentle cycle. Our best system so far had been to put them in a basket of their own, but inevitably, the boys would gather ALL the baskets and start running laundry…. including our things that shouldn't be running through regular laundry.
For us, having something hanging makes it easy to see, and more likely to actually DO something with. Even if the boys hadn't gathered up our basket, sometimes the basket would sit for a few weeks and we'd wonder where our clothes had gone – forgetting they were in the basket, waiting to be 'specially handled'.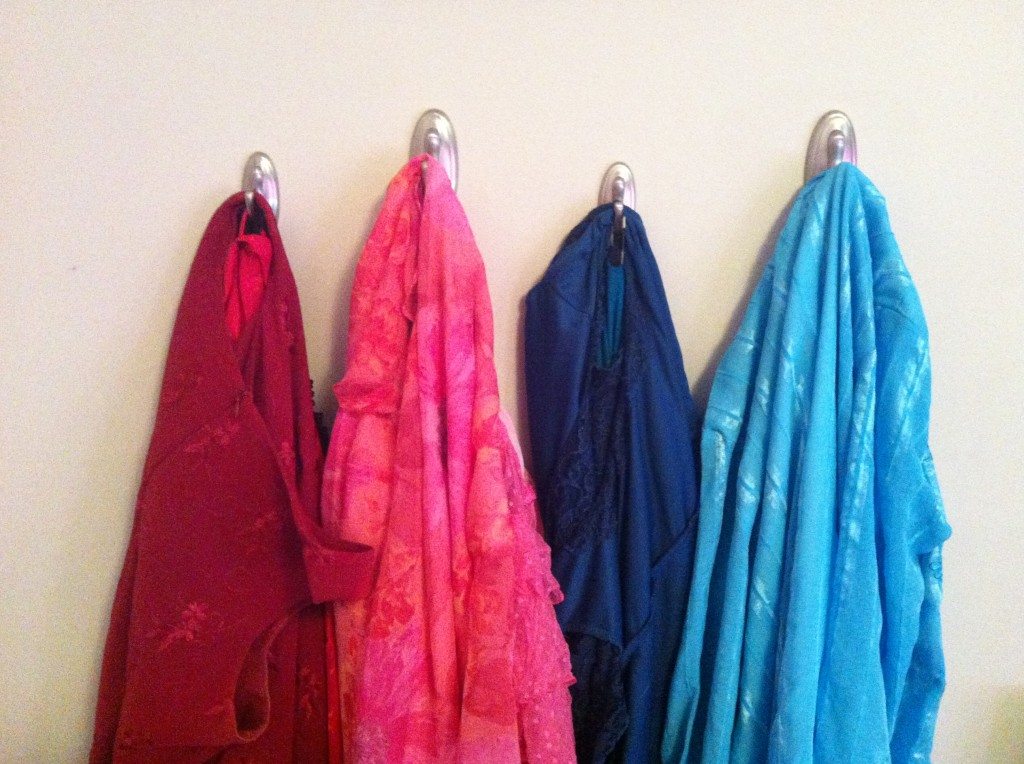 Enter Command™ Faux Metal Hooks!
Having some empty space behind one of our bedroom doors, next to a laundry hamper, we decided to use that space for the hooks. Like I said, 10 minutes and the hooks were installed! We let them sit for an hour, as instructed, for maximum bonding strength, and then hung up our dresses and special shirts that need to be handwashed.
Now we can SEE what needs to be washed, and we've even coordinated them by color. That makes it super easy to grab the things on a hook and throw them all into a gentle cycle in the washer together.
OH, and the hooks are REALLY nice looking!  The ones I have are the Faux Metal Hooks, and they kind of look like brushed steel. I like these very much.
For more about Command™ Hooks visit their website at:  www.commandstrips.ca or find them on other social media channels listed below:
Command Brand (3M Canada) on Facebook:
https://www.facebook.com/CommandBrand
Find us on Twitter:
http://twitter.com/commandbrand
Youtube Channel:
http://www.youtube.com/CommandCanada
Flickr:
http://www.flickr.com/photos/commandbrand/
WIN IT!

Giveaway: ONE lucky It's OK to be WEIRD! reader will win a Command™ BTS Prize Package!
This prize package includes essential organizing tools to get your home Back-to-School ready, including:
2 Small Utensil Hook Packs
1 Small Hook Value Pack
1 Pack of Poster Strips
2 Black Picture Hanging Strips
2 White Picture Hanging Strips
2 Medium Timeless Metallic Coated Hooks
2 Large Timeless Metallic Coated Hooks
To Enter: Mandatory – Visit www.commandstrips.ca and leave me a comment here telling me which hooks you like best, OR share an idea of how you'd use these hooks in your Back to School prep (1 entry).
Bonus Entries:
Leave a comment on this post for EACH entry (1 entry per comment).  Be sure to leave your e-mail address so that I can contact you if you win!
Giveaway closes Saturday, September 15th at 9:00pm MST Open to CANADA (excluding Quebec).  The winner will be selected by random.org and notified by email, and will have 48 hours to reply back before a new winner is selected. Good Luck!
Thank you to Command™ Faux Metal Hooks for sending me the above mentioned products to review. No other compensation has been received for publication in this space. As always, opinions are my own.