Looking for the perfect, healthy gift for the health conscious people in your life? ENERGYbits® could be the answer!
ENERGYbits® are green, plant-based protein tabs that have quickly become the fuel of choice for busy moms, runners, Olympic athletes and active consumers worldwide.  Loaded with 64% protein, 40 vitamins/minerals, these spirulina algae tabs provide steady energy and mental alertness without sugar, chemicals, caffeine, gluten, soy or stomach distress, all for one calorie per tab.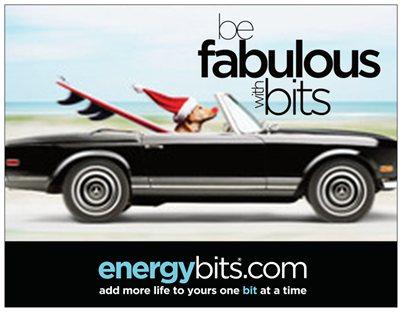 And, they come attractively wrapped; just add a bow and you're good to go!
SPECIAL HOLIDAY OFFER FOR It's OK to be WEIRD READERS! FREE SHIPPING!!! Enter the discount code HOLIDAY when checking out at www.energybits.com and you'll receive FREE SHIPPING (USA and Canada only).
GIFT WITH PURCHASE! For every two bags you order of any brand of bits with any discount code, we are including a GIFT WITH PURCHASE – A GREAT STOCKING STUFFER! Your Stocking stuffer includes s a full tin of ENERGYbits® and other swag – a $15 value.
This holiday, try ENERGYbits® to keep you energized, SKINNYbits® to keep you trim and RECOVERYbits® to stop colds, prevent hangovers or get an early start on your New Year's detox!
'Tis the season to love everyone to bits!
[No compensation was received for this post. I just thought it was a great offer to share.]
*HOLIDAY OFFER OF FREE SHIPPING expires December 31st, 2013 and cannot be combined with any other offers. FREE SHIPPING must be selected at check out and is only valid for USA/Canada. GIFT WITH PURCHASE expires December 31st, 2013 and CAN be used with other offers.