I love hockey. If you've been around the blog  much, you've probably figured that out.
My favourite team is the Vancouver Canucks.
A couple of weeks ago, BuzzFeed Sports wrote up a fun little post called "24 Reasons Why Hockey Players Are Actually Big, Cuddly Sweethearts".
I've heard this from so many people – on the ice, these guys may be hard-hitting and tough, but off-ice they are really, really nice guys.
My Canucks were featured a couple of times in the BuzzFeed list. Of course they were… they're the BEST!
#18: Hockey players are actually big, cuddly sweethearts. In fact, they're perfect husband/dad material.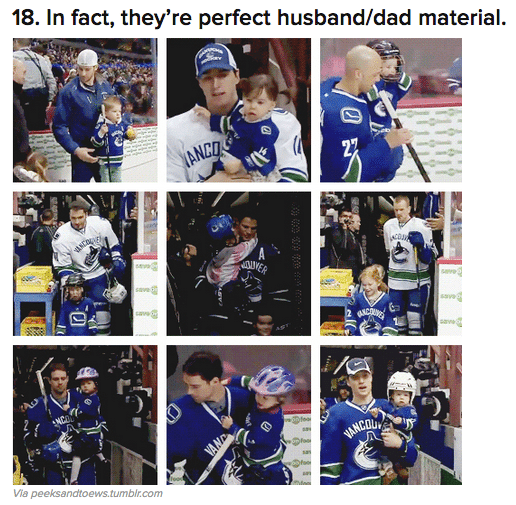 Is that not totally cute and totally cool?
Like I needed any more reasons to love hockey… Melt my heart, guys!
My favourites on the 24 Reasons list are:
It's a great list overall, and I agree with all of them. Hockey guys are good guys, great guys even, with big hearts.
Do you know any hockey players (at any level, from TimBits to pro)? Would you agree that they are really big cuddly sweethearts?
Which reasons on the 24 Reasons list are your favourites?