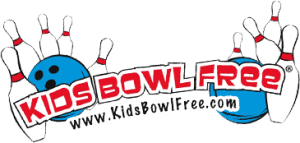 For the second year, we've registered our kiddos for the KidsBowlFree program.
KidsBowlFree is a program hosted by participating bowling centres across the USA and Canada. Bowling centres, schools, and other community organizations work together to launch a super summer activity option for kids and families!
Kids (under 15 years old) registered for the KidsBowlFree program get 2 FREE Games of bowling every day all summer long at your participating center*. There are over 1,050 locations to choose from.
For Canadian Locations, click on the Canadian flag on the KidsBowlFree home page, or go to the KidsBowlFree Canada listing directly.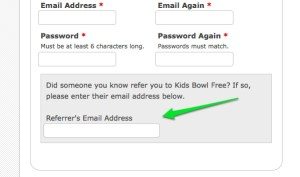 Visit http://www.kidsbowlfree.com/ to register your family today. Please use my email (raylenewall@gmail.com) in the "referred by" field. We'll both be entered to win some cool prizes including iPads and a trip to Walt Disney World!
We get the Family Pass, as well. For a one-time payment of $24.95US, up to 4 adults (including siblings over 15, grandparents, caregivers, etc…) can be added to the Pass, and they each receive 2 free bowling games a day, too! It's really a great deal and gives us another easy option for a family activity.
Bowling seems to run in my family's blood. I remember Monday night bowling league with my Papa, his brothers, my dad, and uncles. Those were good times!
So it seems only fitting that we carry on the tradition, at least a little bit.
Bowling is also a great indoor activity on the days when it's just too hot outside, or you're too tired to organize something else for the kids to do. Think about it.  You're at your wit's end when you realize, "HEY, we can go bowling!" It could be a sanity-saver!
Register your family for KidsBowlFree and enjoy as much bowling as you can this summer, for next-to-no expense!
You can thank me later. And don't forget to use my email address (raylenewall@gmail.com) in the "referred by" field, please and thank you!
Disclosure: No promotional fees or compensation has been received for this post. I just LOVE the program, wanted to share it with all my friends, and maybe have a chance to win a Disneyland trip!
*Shoe rental rates still apply. See website for details.